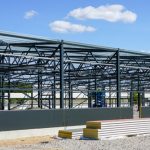 Choosing the right company to work with for your structural steel needs is crucial to the success of your project. With numerous options available in the market, it can be overwhelming to make the right choice. Here, we will discuss some important factors that you should consider when selecting a structural steel company.
Experience and Expertise
The first thing to consider is the experience and expertise of the company. Look for a company that has a proven track record in the industry and has been in business for a significant amount of time. An experienced company will have the necessary knowledge and skills to handle even the most complex steel projects. They will be able to provide you with reliable solutions and guide you through the entire process, from design to installation.
Quality of Products
Another crucial factor to consider is the quality of the steel products offered by the company. It is essential to ensure that the company uses high-quality materials that meet industry standards. Reputable companies should have certifications and adhere to strict quality control measures. This will guarantee that the steel products you receive are durable, reliable, and long-lasting.
Customization Options
Every project is unique, and you may require customized steel products to meet your specific needs. When choosing a structural steel company, it is important to inquire about their ability to customize products. Ensure that the company has the necessary resources and capabilities to provide tailored solutions. This will ensure that the steel products you receive are designed and fabricated to meet your project requirements accurately.
Capacity and Production Time
Consider the capacity and production time of the structural steel company you are considering. You want to work with a company that can meet your project deadlines and provide products in a timely manner. Inquire about their production capabilities, including the size and complexity of the projects they can handle. This will help you determine if the company is equipped to handle your project efficiently and deliver satisfactory results within your timeline.
Industry Reputation and References
Do some research on the industry reputation of the structural steel company you are considering. Look for online reviews, testimonials, and case studies to gauge the level of customer satisfaction and quality of service provided. Additionally, ask the company for references of past clients or projects they have worked on. Contact these references to get an honest opinion about their experience working with the company. This will provide insights into the company's reliability, professionalism, and ability to deliver on their promises.
Price and Affordability
While price should not be the sole determining factor, it is important to consider your budget when choosing a structural steel company. Compare the prices offered by different companies and determine if they align with the quality and services provided. Some companies may offer competitive pricing while compromising quality, so be cautious of any unusually low prices. Look for a company that offers a balance between affordability and value for money.
Conclusion
When choosing a structural steel company, it is essential to consider factors such as experience, product quality, customization options, capacity, industry reputation, and affordability. By carefully evaluating these aspects, you can select a reliable and trustworthy company that will deliver superior steel products for your project.
Work With Suburban Pipe and Steel
Suburban Pipe & Steel, Inc. DBA Flint Construction. in Visalia, California, doing business as Flint Construction, has been family owned since 1957. We truly understand steel buildings. We design, fabricate, and install all phases of pipe and steel structures for every industry. Contact us today to find out more about our services, rates, and to schedule a consultation. You can even fax us your drawings so we can have a better idea of your vision. We look forward to exceeding your expectations.